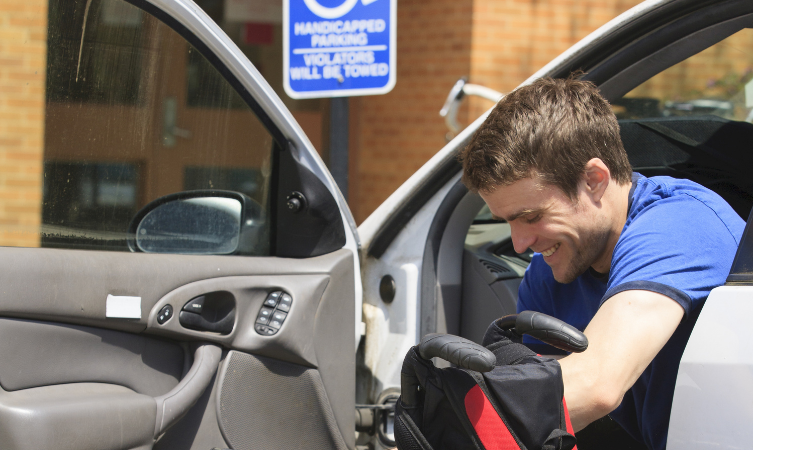 Finding wheelchair accessible parking
Finding a suitable parking space or indeed a car park that accommodates a wheelchair accessible vehicle can be troublesome, especially if you are visiting a new area.
There are certain considerations when it comes to finding a suitable parking space; plenty of space to remove the wheelchair from the vehicle safely, accessibility to the pedestrian areas and spaces that are close to the local shops and attractions.
If you are heading to a new location, you can find suitable disabled parking before you set off using the handy disabled space finder from Disabled Parking Accreditation.
This search facility will help you find suitable parking that;
Has accessible bays
Has ease of access
Has good lighting
Has clear signage
Has accessible payment machines
Accessible Bays
According to DPA, accessible bays must have minimum dimensions of 2.4m x 4.8m accompanied by a 1.2m transition zone around the marked bay, allowing for the wheelchair and their user to easily access the vehicle.
As well as having accessible bays, the car park must have a minimum ratio of disabled spaces, usually 3% of the car park.
Clear Signage
Clear signs must be present that offer guidance of how to navigate the car park, specifically for multi-storey car parks.
Accessibility
If the car park is across multiple levels, there must be either ramps or lifts available for wheelchair users. If the car park is located on one level, the pedestrian entrance/exit must offer levelled access.
Accessible machines
Pay and display machines must be accessible for wheelchair users, specifically from a height perspective. These machines will usually be located near to the accessible parking spaces.
Good lighting
Imperative to providing a safe environment to wheelchair users, good lighting should be provided to help guide wheelchair users to the designated spaces.
How many Disabled Parking Association car parks are there?
There are hundreds of DPA car parks around the UK, across major towns and cities. These car parks are located near to popular attractions, shops, restaurants and hotels, providing easy access for wheelchair users:
South East
London – 18 DPA car parks within 5 miles of London
Kent – 7 DPA car parks within the Kent region
Sussex – 50 DPA car park in the Sussex region
Essex – 48 DPA car parks in the Essex region
South West
Hampshire – 39 DPA car parks within the Hampshire region
Dorset – 3 DPA car parks in the Dorset area
Devon – 4 DPA car parks around the Devon region
Cornwall – 0 DPA car parks in the Cornwall region
Somerset – 22 DPA car parks in the Somerset region
Midlands
West Midlands – 26 DPA car parks in West Midlands
East Midlands – 31 DPA car parks in the East Midlands region
North West
Lancashire/Greater Manchester – 31 DPA car parks in the North West
North East
Durham – 21 DPA car parks in the Durham region
Tyne and Wear - 28 DPA car parks in Tyne and Wear
Yorkshire
West Yorkshire – 8 DPA car parks in West Yorkshire
South Yorkshire – 7 DPA car parks in South Yorkshire
North Yorkshire – 5 DPA car parks in North Yorkshire
Humberside – 35 DPA car parks in Humberside area
Scotland
Ayrshire – 8 DPA car parks in the Ayrshire area
Midlothian – 25 car parks in the Midlothian area
Perthshire - 8 DPA car parks in the Perthshire region
If you are looking to purchase a wheelchair accessible vehicle or perhaps you may benefit from renting a vehicle instead, speak to the friendly team here at Wholesale Car Company who would be happy to help you find your freedom.
Latest News