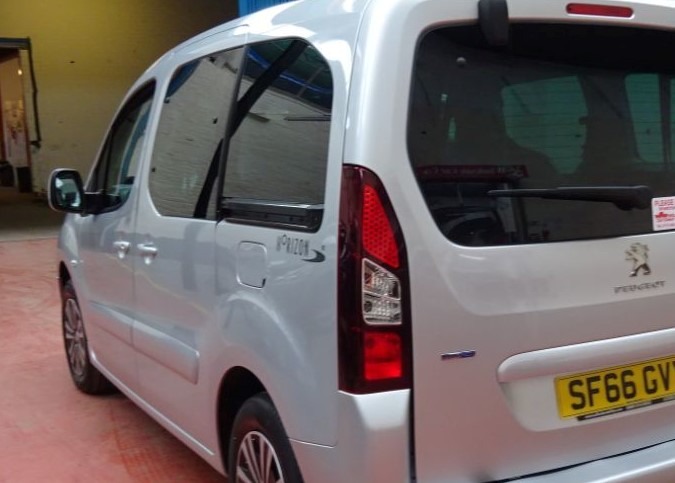 Peugeot Wheelchair Accessible Vehicles
Here at Wholesale Car Company, we can supply a range of Peugeot wheelchair accessible vehicles, all designed to offer you the freedom you need to get out and about, as safely as possible.
One of our most popular Peugeot wheelchair accessible vehicles is the Peugeot Partner, a medium sized MPV that offers 3 passenger seats alongside the wheelchair so everyone can travel together.
The Peugeot Partner features a ramp at the rear of the vehicle, which can be folded flat when not in use.
Peugeot Partner Safety Features
When it comes to choosing a wheelchair accessible vehicle, one that has a range of safety features should be high on your list of priorities.
Electric Winch
The Peugeot Partner wheelchair accessible vehicle comes with an electric winch which makes transporting the wheelchair into the vehicle as easy and safe as possible.
4 Point Chair Securing
The 4-point chair securing ensures the wheelchair stays secured in place during each journey, especially on winding roads. The securing comes with a separate lap and diagonal seat belt for additional security.
ISOFIX preparation
The Peugeot Partner comes equipped with an ISOFIX port, so you can secure a children's car seat if you are travelling with young ones.
Peugeot Partner Comfort Features
If you're travelling on long journeys, having a car that is packed with comfort features can make the experience much more enjoyable.
Air Conditioning – when travelling in the summer months, having air conditioning makes the journey much more comfortable, so you aren't sat in a stuffy car in traffic jams.
Refrigerated storage compartment – if you're heading out for a picnic or off on a staycation, having a refrigerated compartment that keeps your snacks and drinks cool means you can take everything with you, rather than buying when you get there.
Cup holders – having cup holders makes it really easy to stay hydrated during your journeys, especially on those longer, summer trips.
Below seat storage – designed to keep all of your belongings safely out of the way, the storage under the seats means you don't have items rattling about in the cabin area that may also become a hazard to the occupants.
Load area light – when loading items or passengers into the vehicle, having a light so you can see better will make the job much easier and of course safer.
If you are looking for a Peugeot wheelchair accessible vehicle, get in touch with Wholesale Car Company who would be happy to arrange a test drive or demonstration so you can see what the Peugeot has to offer you.
Latest News