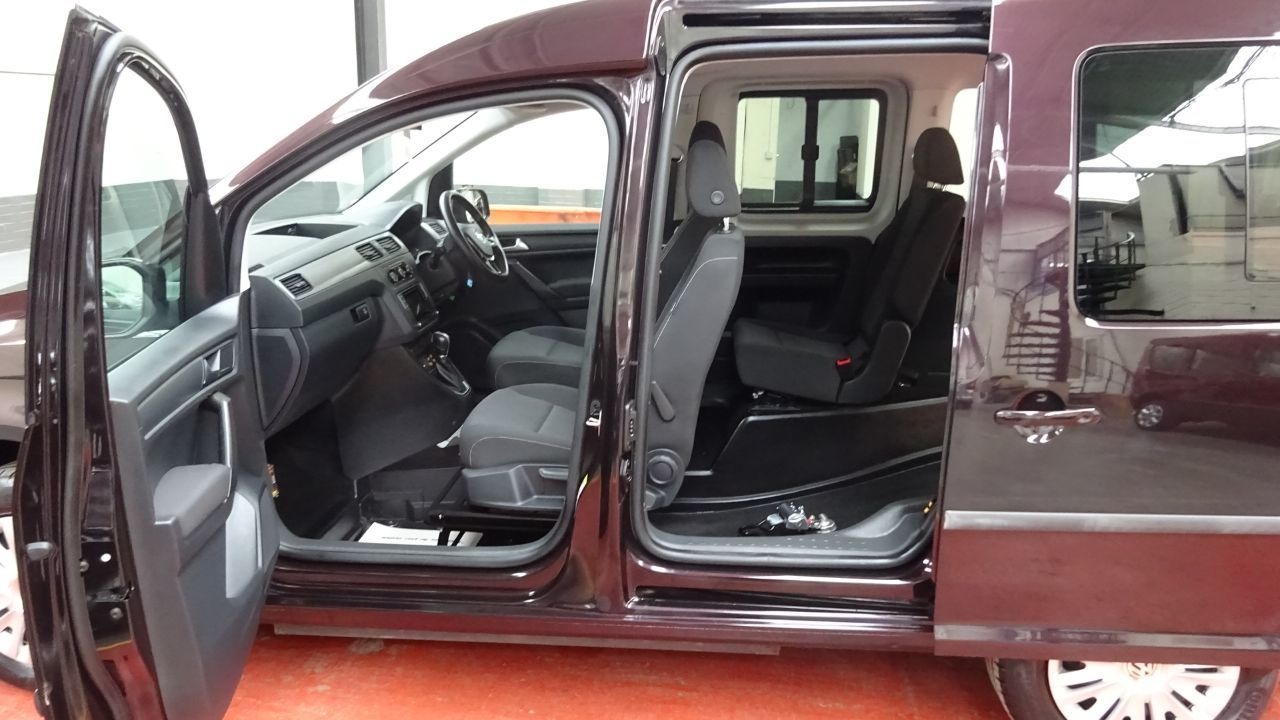 Wheelchair Accessible Vans
If you or a family member is a wheelchair user and spends the majority of their time in a wheelchair, having a wheelchair accessible vehicle (WAV) will provide that much needed freedom that is often taken away from those who rely on a wheelchair.
A WAV allows the wheelchair user to be wheeled into the vehicle via a ramp on the rear of the vehicle, so day trips are made much easier, especially when it comes to getting there and back.
Travelling on public transport such as trains can often be very stressful, especially when you consider navigating the platforms, getting onto the train and managing any last-minute platform changes or delays. Having the option to travel in a spacious van that is equipped for a wheelchair user makes getting out and about more enjoyable.
Here at Wholesale Car Company, we have a range of wheelchair accessible vans for sale, designed to help you get from A to B comfortably and safely.
Compact wheelchair accessible vans
If you don't need the space that a large van conversion offers, a compact wheelchair accessible vehicle might be more suited to your needs. They often have fewer passenger seats though so it's important to know that with a smaller wheelchair accessible van, comes less cabin space.
Citroen Berlingo Multispace
When it comes to parking in space constrained areas, the sliding side door makes it safer for your passengers to disembark the vehicle, especially at the side of the road.
There's plenty of space for the wheelchair user to be safely secured in the rear of the vehicle at the same time as being able to accommodate 3 others (including the driver).
The Berlingo Multispace comes with a bi-folding rear ramp that provides plenty of space for the wheelchair user to be wheeled into the vehicle and the 4-point securing keeps the wheelchair still during each journey.
Fiat Doblo
The Fiat Doblo is ideal for those doing lots of city driving or around the local town, such as to the shops and back.
With the Fiat Doblo, you can expect a bi-fold ramp, a lowered floor and a 4-point securing system as well as a host of storage options to keep the cabin area clutter free.
The Doblo can accommodate the wheelchair and three other passengers (including the driver), so there's no shortage of space for a compact van.
Peugeot Partner
The Peugeot Partner is one of the more compact models of wheelchair accessible vehicles we sell, so best suited to those who want something that can navigate busy environments such as towns and cities.
The Partner offers space for up to 3 other people to travel alongside the wheelchair user, so the whole family can travel together.
There's also a range of technology features, including Bluetooth, air conditioning, refrigerated storage compartment and multi-function display screen.
Large wheelchair accessible vans
Ford Tourneo Custom
The Ford Tourneo Custom is a spacious wheelchair accessible van that can accommodate an additional 5 passengers as well as the wheelchair user, so everyone can travel together.
There's a host of comfort features, including electric windows, central door locking and cup holders. As well as this, there's also Bluetooth technology so you can stream your own music directly from your smartphone.
Ford Tourneo Connect
The Ford Tourneo Connect will be able to accommodate 5 people plus the wheelchair, so the whole family can travel together on days out.
The long wheelbase means there's plenty of room for 5 seats as well as space at the very back for the wheelchair to sit comfortably.
The wheelchair user will be secured with a 4-point chair fastening as well a lap and diagonal seat belt.
When it comes to safety features, there's ISOFIX preparation, cornering brake control and electronic traction control.
Volkswagen Caddy Maxi
The Volkswagen Caddy Maxi is an incredibly stylish medium sized wheelchair accessible van that can accommodate up to 5 people, plus a wheelchair.
The load assist winch helps to transport the wheelchair user up the ramp and into the rear of the vehicle so they can be secured ready for their journey.
There's also a wide range of features, including stop/start technology, air conditioning, central door locking, Bluetooth and plenty of storage solutions to keep your belongings safe and out of the way.
Interested in a wheelchair accessible van?
If you are in the market for a wheelchair accessible van, speak to the knowledgeable team at Wholesale Car Company who would be happy to help you source your next WAV. All our wheelchair accessible vehicles are sold with a non-advisory MOT and come with a comprehensive 12-month warranty.
Latest News