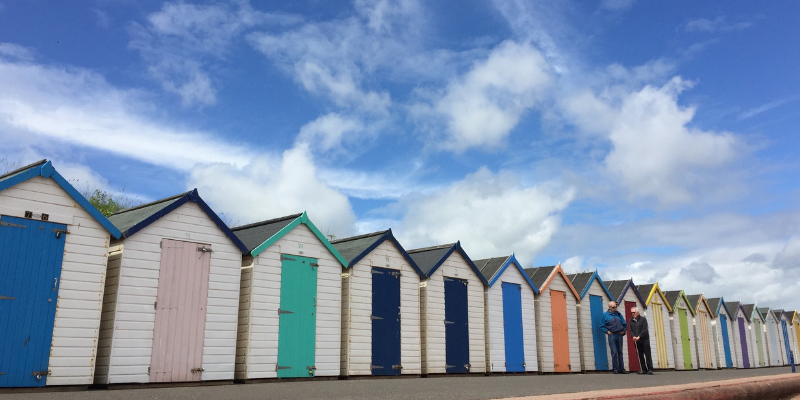 Wheelchair accessible beaches in the UK
If you're a wheelchair user who is looking for a day out at the beach, you might need to plan a little more than you would for other trips. A standard wheelchair is not really an option on the sand as the wheels don't have a good enough surface area to travel across the sand.
Whilst most seaside towns and promenade areas might be wheelchair friendly, it wouldn't be feasible to use a standard wheelchair on a beach – so in order to see the beach, you would need to rent or hire a specialist beach wheelchair.
We have also taken into account the accessibility of the promenade – are ramps available as well as steps, is the terrain relatively flat and is the footpath wide enough for a wheelchair to navigate.
Brighton
With plenty of disabled parking right by the seafront on Madeira Drive, you can easily access the promenade and use one of the ramps to head down to the beach. A regular wheelchair won't be able to navigate Brighton Beach, but the wheelchair can be taken as close as possible to the sea.
If you don't want to go directly onto the beach, but are happy to explore the promenade, there is plenty of paved footpaths at both sides of Brighton Pier.
Where to rent beach wheelchairs: You can rent an all-terrain wheelchair from the Seafront Office. These can be booked up to 1 week in advance and have a time slot of 2 hours. The service is free of charge, but a £25 deposit is required.
Whitby
If you're visiting Whitby, some of the town centre might be out of bounds to wheelchair users due to the cobbled streets making for dangerous terrain. As such, the remains of Whitby Abbey are reachable via the famous 199 steps, so getting to the top of the cliff might prove difficult.
Wheelchair users can, however, use the beach thanks to the local beach wheelchair rental option.
Where to rent beach wheelchairs: Beach wheelchairs are available to hire from Whitby Surf School (YO21 3EN). Wheelchairs are available on a first come, first served basis. There is a lift down to West Cliff Beach located on North Terrace.
Great Yarmouth
One of Britain's most loved seaside towns, Great Yarmouth is well equipped for wheelchair users to enjoy the beach. The promenade is flat and wide enough for wheelchair users, pedestrians and pushchairs to share at the same time.
Where to rent beach wheelchairs: The SEA Life Centre in Great Yarmouth offers all-terrain wheelchairs for rent so if you are a wheelchair user, you can enjoy the beach with your family. From here, you can navigate down the promenade and use one of the ramps to get onto the beach itself.
The service is free of charge, but a £20 deposit is required.
Whitmore Bay (Barry Island)
If you're visiting Wales as a wheelchair users, you will also want to explore the stunning beaches the country has to offer. Whitmore Bay is a family friendly beach that has a wide ramp to access the sand from the promenade.
The main attractions are on the promenade so everything is in one place for your visit to Barry Island.
Where to rent beach wheelchairs: Beach wheelchairs are available to hire from Barry Island Tourist Centre (CF62 5TQ).
Fleetwood
In 2021, Fleetwood beach was provided with new beach wheelchairs. The beach itself is less busy than the likes of Blackpool which is better for wheelchair users who want space to manoeuvre safely.
The promenade terrain is flat and wide enough to push a wheelchair without having to navigate obstacles.
Where to rent beach wheelchairs: Beach wheelchairs can be hired from Fleetwood Wheelchairs which is located on the promenade (FY7 6QE), opposite The Mount Hotel. The wheelchairs are free to rent, but a small donation is welcome.
If you are looking to make your first purchase of a Wheelchair Accessible Vehicle or you are ready to upgrade, see what we have in stock and arrange a test drive today.
Latest News