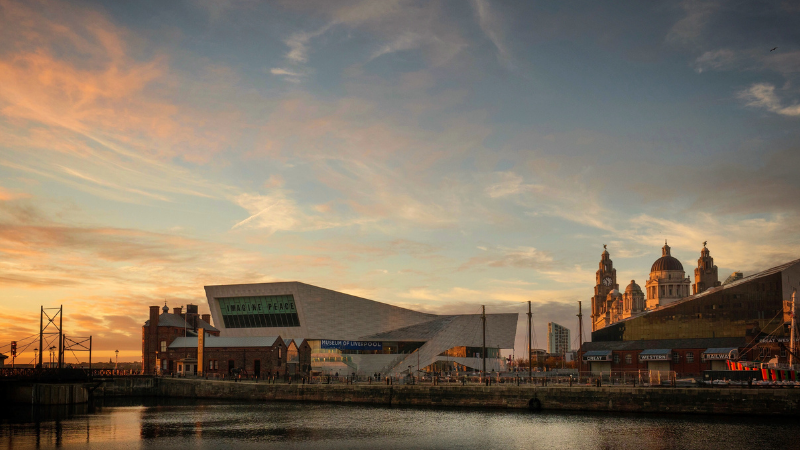 Wheelchair Accessible Cities in the UK
If you are a wheelchair user, you will understand more than anyone how important it is for everything to be easily accessible, from public bathrooms to restaurants and even the town or city itself.
Whilst every part of a city is not likely to be accessible for wheelchairs, there are certain cities that have made an extra effort to be wheelchair friendly.
Liverpool
Liverpool is one of the cities that have done a great job in being accessible to wheelchair users, especially those who may not be able to even walk a short distance.
If you're travelling to Liverpool in a Wheelchair Accessible Vehicle (WAV), you can park at Liverpool One Shopping Centre in one of their dedicated disabled bays. Once parked up, there's level access to the shopping centre, which includes lifts and ramps.
Inside the shopping centre there's plenty of accessible bathrooms and most restaurants offer level access. There's also level access out to the gardens so you can enjoy the views and perhaps have a picnic if the weather permits.
Where to park: There are dedicated disabled parking bays at Liverpool One Shopping Centre which offers level access into the shopping centre. From here, you can use the lifts to reach the street.
From here, you can easily make your way around the rest of the city centre shopping area.
If you're heading to the likes of World Museum Liverpool, you can park directly at the venue in one of the accessible parking spaces. The museum itself has two lifts on each floor so you can access each area of the museum easily.
Chester
In 2017, Chester was awarded first prize for the Access City Award, for the effort put in to ensure everyone can enjoy the city.
There are dedicated disabled parking bays at Delamere Street Multi-Storey car park, with accessible entrances and exits.
Just across the road, there is a newly installed wheelchair accessible riverside footpath so you can see the city walls up close.
If you continue just a short distance up the road, you will soon reach the city centre, which is lined with independent and high street shops as well as plenty of cafes and restaurants so you can replenish.
There's several wheelchair accessible venues to visit in Chester, including the Storyhouse cinema and theatre, Chester indoor market and Chester Cathedral. The city walls have some areas where wheelchairs can access the pathway, but most sections are accessed by steps.
Wheelchair users should access Chester city walls from just by the Chester Cathedral Falconry centre where there is a ramp available up to the city wall pathway. You may be required to return to the same place to exit the city walls.
Where to park: Whether you are heading to Chester for some retail therapy, to explore the historic sights or grab a coffee with some friends, Delamere Street Multi-Storey offers central parking no matter where you are visiting in Chester. There's accessible entrances and exits which lead to the paved footpath outside.
Newcastle
Whether you are looking to do a day of shopping, watch a match at St James' Park or having a family day out at one of Newcastle's museums, getting around the city is easy and stress free.
Newcastle's Discovery Museum accommodates wheelchair users and have designed the layout so it is accessible for all.
The main gate is tarmacked and the main entrance is two sets of automatic doors where you will reach the welcome desk. As you go round, you'll find three public lifts that provide access to all floors across the museum. All floors have level access, and the lower ground has ramped access. There's also plenty of seating around the museum should you need to take a break.
There are also accessible toilets available on several floors, with a changing places toilet on the ground floor which includes a bench, hoist, peninsular toilet and non-slip floor.
Where to park: Eldon Garden multi storey car park (2 Morden St, Newcastle upon Tyne NE1 7RQ) has disabled bays available on level 10. There is a lift which goes directly into Eldon Square shopping centre available on floor 10. If you don't fancy shopping, you can leave the shopping centre at street level.
Brighton
If you fancy a day out at the seaside, Brighton has plenty of wheelchair accessible attractions and venues to visit, as well as a number of car parks close to the town centre, all with dedicated disabled parking.
Brighton Pier is accessible for wheelchair users as there's no step access to contend with. The entrance to Brighton pier is level with the road.
The promenade is also accessible so wheelchair users can take advantage of the footpaths and take in the sea views.
If you plan to visit some of the local attractions are fully accessible, such as SEALife Centre (with the exception of the Ocean Display), Hollywood Bowl and Brighton Museum.
Where to park: There are dedicated disabled parking bays on Madeira Drive close to Brighton Pier, which is ideal for those looking to visit the beach. If you want to be closer to the town centre, there's several options that offer disabled parking, including Brighton Centre Russell Road NCP car park which has 12 disabled bays or Brighton Theatre NCP car park which has 6 disabled bays.
Getting out and exploring new places doesn't have to be fraught with stress and worry. Cities in particular are making a much more concerted effort to be more accessible to wheelchair users. If you are looking to upgrade your wheelchair accessible vehicle, speak to the knowledgable team here at Wholesale Car Company.
Latest News