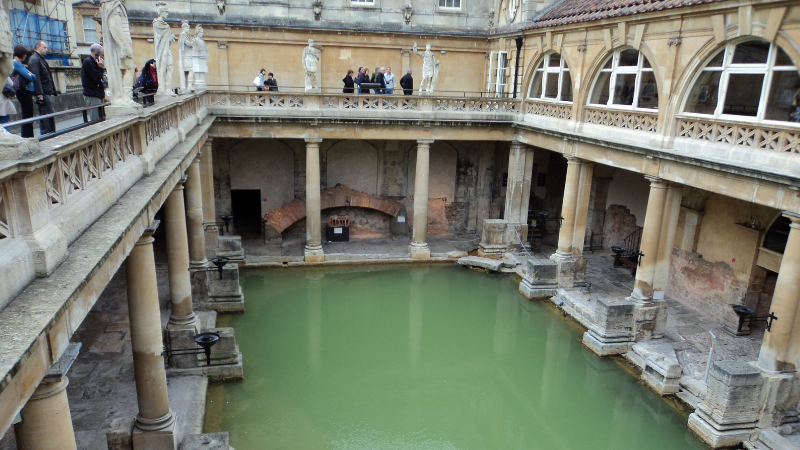 Wheelchair Accessible Visitor Spots around the UK
Finding accessible places to visit can often take the fun away from actually visiting and enjoying these new places; the planning can be somewhat of a military operation. You need to find an accessible visitor attraction with accessible parking nearby, which can often prove difficult, particularly in towns and cities.
In this article:
Accessible visitor attractions in the UK

Parking near visitor attractions

Hire a wheelchair accessible vehicle
How wheelchair accessible vehicles work
UK Attractions with Accessible Access
Let's get right into it. Here's our list of recommended, accessible visitor attractions to visit across the UK.
1. The Roman Baths
The Roman Baths have won multiple awards for the enhancements they have put in place to make the venue more accessible to wheelchair users, those who are hard of hearing and sight impaired visitors. There are dedicated sessions for wheelchair users who need to utilise the lifts.
The Roman Baths is now 90% wheelchair accessible and, in 2016, the attraction was awarded Gold in the Access for All category at the South West Tourism Awards as well as Silver at the VisitEngland Awards for Excellence.
There are still some areas that are inaccessible for wheelchair users due to the worn stone flooring, but the changes implemented means the vast majority of the venue is accessible.
Whilst there is no on site parking, the nearest Blue Badge parking is on Cheap Street, just a short distance away.
Address: The Roman Baths, Abbey Church Yard, Bath BA1 1LZ
2. Bristol Zoo Gardens
Bristol Council recently undertook research into their visitor attractions, restaurants, shops and hotels with the help of AccessAble, to see how they fared when wheelchair users came to visit. The feedback provided meant that these venues were given an accessibility label; good, bad, accessible, or inaccessible, to help wheelchair users plan their visit better.
Bristol Zoo has a wide range of accessible facilities, including on-site Blue Badge parking, Accessible and a Step Free and Ambulant Toilet. The venue itself is also enhanced to assist wheelchair users, from plenty of well laid paths to automatic doors and lower glass enclosures.
Address: Bristol Zoo Gardens, Clifton, Bristol, BS8 3HA.
3. London Eye
London Eye is one of the most visited attractions in the capital, offering some of the most unrivalled views of the city.
The London Eye itself is completely accessible, allowing two wheelchair users per capsule at any one time. The venue recommend that you book at least 48 hours in advance to secure your wheelchair spot on a capsule. Tickets can also be booked online.
There is no accessible parking on site, however if you have a ticket booked, you can take advantage of discount available at Q-Park Westminster, which is just a short walk from the London Eye.
Address: The London Eye, Riverside Building, County Hall, Westminster Bridge Road, London, SE1 7PB
4. Windsor Castle
Windsor Castle is popular with tourists from all across the world looking to get a glimpse into the world of the monarchy. If you look at the website, it outlines exactly which areas of the castle are not accessible for wheelchairs and which areas have wheelchair aids such as lifts or platforms.
There's respite seating areas available at certain points on the tour and assistance animals are permissed, providing they wear a non slip lead and a designated jacket. You can rent wheelchairs during your visit to Windsor Castle and there is also accessible toilets on site, making it a wheelchair friendly day out.
Address: Windsor Castle, Windsor, Berkshire, SL4 1NJ
5. Warwick Castle
Warwick Castle is a great day out for all the family, taking you back to medeival times. There's dedicated Blue Badge parking on site which are subject to standard parking charges. These are available on a first come, first served basis.
If you have issues getting about, you can hire a wheelchair when you visit Warwick Castle, or you can bring your own aid.
There are accessible lifts which take you to The Great Hall, Staterooms and lower level of The Royal Weekend Party.
There are several accessible toilets thoughout Warwick Castle, making it a stress free experience. The gift shop and courtyard shop are both accessible for wheelchairs.
Assistance dogs are welcome and there's also a welfare room on site, which is suitable for having quiet time, breast-feeding and prayers.
Address: Warwick Castle, Castle Lane, Warwick, CV34 4QU
Hire a Wheelchair Accessible Vehicle
If you are visiting the UK from overseas, or you are simply looking to get away on a staycation and see some of the sights across the country, you may benefit from hiring a wheelchair accessible vehicle.
Hiring a WAV has never been easier as Wholesale Car Company allow you to hire a Wheelchair Accessible Vehicle daily or weekly.
If you need long term hire, from 3 months upward, you can take advantage of some great offers we have available here at Wholesale Car Company. This might be the best option if you are looking to travel around locally or across the UK for a longer period of time, but don't need to invest in a Wheelchair Accessible Vehicle long term.
How Wheelchair Accessible Vehicle's Work
Wheelchair Accessible Vehicles, or WAV's for short, are vehicles that have been modified to make life easier for wheelchair users. There are two main types of Wheelchair Accessible Vehicles, the first being a drive-from vehicle, which accommodates a wheelchair user who will drive the vehicle using the modified controls.
Then you have vehicles that will accommodate wheelchair users as passengers, without having them leave their wheelchair. The vehicle will usually have a ramp or lift installed in the rear of the vehicle and space for the wheelchair to be secured in the rear or as a front seat passenger.
Here at Wholesale Car Company, we offer excellent finance options, making owning a Wheelchair Accessible Vehicle as easy and affordable as possible.
If you'd prefer a quality used Wheelchair Accessible Vehicle, we have a range in-stock, but we'd be happy to speak to you about your requirements.
Latest News