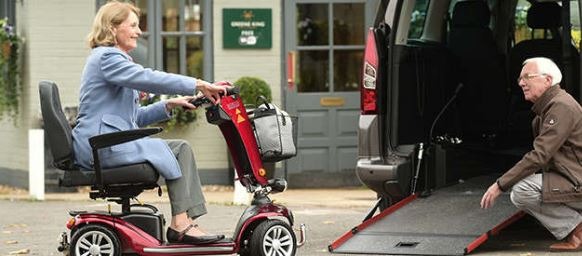 Everything you need to know about Wheelchair Accessible Vehicles
Whether you are looking for your first WAV, which stands for Wheelchair Accessible Vehicle, or you are looking to upgrade to a new WAV, we're here to provide you with all the assistance you should need to help you make the most informed decision.
What we will cover in this article:
Firstly, let's discuss exactly what a WAV is and how it can help you or your loved ones.
A WAV is a vehicle that has been specifically adapted for a wheelchair user, whether as a passenger or a driver. The wheelchair users will be able to stay seated in the wheelchair during the journey, which itself will be fixed securely to the floor of the vehicle (similar to a car seat).
We convert standard cars into wheelchair accessible vehicles by removing the rear seat configuration and putting a ramp into the old boot space, allowing the wheelchair to access the vehicle from the rear.
Depending on the type of vehicle you want, there are different adaptations available. Some WAV's will have a ramp, which is one of the most common adaptations, and other will have lifts, which are more complex adaptations, but may be required in some instances. Lifts are beneficial when the carer may struggle to push the wheelchair into the vehicle.
Wheelchair Accessible Vehicles are designed for those who can not transfer themselves from their wheelchair into a vehicle for whatever reason. If the carer is not able to lift the wheelchair user into the passenger seat, you could benefit from a WAV.
Seating
You will need to establish how many passengers will need to travel with the wheelchair user on a regular basis. Because standard seats will be removed to make way for the wheelchair, there may be fewer standard seats for other passengers. Often, the rear seats will be reconfigured to fold and allow the wheelchair to access the secure space.
Parking
If you are a wheelchair user, you will know that parking can be somewhat of a hindrance at the best of times. You need to ensure you leave enough space for the wheelchair user to access the vehicle and to do so in a safe manner (not on a busy road). Often, other road users can become an obstruction by parking too close to your vehicle.
If you are investing in a Wheelchair Accessible Vehicle, it's important to take into consideration that you will need additional room to manoeuvre the wheelchair into the vehicle, usually via a ramp at the rear.
There may also be height restrictions at some public car parks, which is important to consider, especially if you will be visiting new places regularly. There are dedicated resources for finding suitable disabled parking around the UK.
Ground clearance
Because some Wheelchair Accessible Vehicles have their floor lowered, it should be taken into consideration, especially if you live on a steep hill or have an inclined driveway.
There are different types of Wheelchair Accessible Vehicles to suit different requirements. If the wheelchair user will be a passenger in the WAV, there are less adaptations required so you usually have a larger selection of vehicle to choose from.
Here at Wholesale Car Company, we have a huge range of wheelchair accessible vehicles for sale, available for people with disabilities, from smaller 3 seat cars to larger 8 seat vehicles and are able to suit the needs of most chair or scooter users, including different sizes and models of chair/scooter. We also have a range of options depending on whether the wheelchair user will be a passenger or driving the car.
The wheelchair user will normally be positioned in the back of the vehicle as there are less adaptations required, however there is still the option to have the front passenger seat as the secure wheelchair space.
Drive-from-wheelchair
As the name suggests, a drive-from-wheelchair WAV allows the wheelchair users themselves to drive the vehicle, so there's often more unique adaptations than a standard Wheelchair Accessible Vehicle. The wheelchair user will be driving the vehicle themselves in a drive-from-wheelchair vehicle so the standard drivers seat will be removed.
Internal transfer vehicle
In the case where the driver won't be driving the vehicle from their wheelchair, you will likely benefit from an internal transfer vehicle instead, which means the wheelchair user can transfer from their wheelchair, into a standard driving seat.
You usually can choose from a selection of Wheelchair Accessible Vehicles from popular manufacturers such as Citroen, Volkswagen, Peugeot and Fiat to name just a few, so if you have a specific make or model in mind, speak to the team here at Wholesale Car Company to see if we have something to meet your requirements.
Even though these vehicles are adapted for wheelchair users, they are modified in a way where the wheelchair user will be completely secure in the vehicle.
WAV's have restrained systems in place that secure the wheelchair during travel, all of which are adjustable and self locking. When you buy a wheelchair accessible vehicle from Wholesale Car Company, we will always show you how everything works to keep the wheelchair user and other passengers safe at all time.
Yes. The Motability Scheme is a charity that helps provide funding for those who require a wheelchair accessible vehicle. It will depend on your personal situation to what you are entitled to, but it's worth checking first.
Whereabouts are you located, and do you provide home demonstrations?
Based in the East Midlands and only three miles from junction 26 of the M1, we are able to provide a national service. Subject to consultation with you over the telephone, we can arrange to demonstrate the vehicle at your home.
Do you deliver Wheelchair Accessible Vehicles?
For a small additional charge, we are able to arrange delivery to anywhere in the UK mainland so you aren't restricted to living locally to benefit from our services.
Are you able to finance Wheelchair Accessible Vehicles?
Yes, we are! However, this isn't done through the Motability programme. Instead, we have a specialist finance company called Southern WAV Finance who specialise in financing this type of vehicle.
Will I have to pay VAT?
Providing the car is being purchased for the benefit of a sole chair user, there is no VAT to be paid. Similarly, if the car is being provided to a charity, there is also zero VAT to be paid, as many charities are exempt from VAT.
Will I be exempt from paying road tax?
If you are currently receiving the war pensioners' mobility supplement or the higher rate disability component of disability living allowance, you are automatically 11 Bringing freedom and independence to wheelchair users exempt from having to pay road tax. However, as mentioned earlier, people who fall ill after retirement age aren't eligible for this higher rate and, as a result, many retired wheelchair users will still have to pay road tax. For more details, see DVLA leaflet V188.
Am I eligible for a Blue Badge?
As the Blue Badge Scheme is managed by the local authorities, you will need to apply to your local Social Services department to see if you're eligible for a blue badge. Generally speaking, however, vehicle users will usually qualify.
Where do these vehicles come from?
The majority of our vehicles are sourced from Motability, a national charity set up by the government. As one of the largest companies of their kind in the UK, all their vehicles come to us with a full service history as part of the Motability programme.
Buying back as a high percentage of vehicles are bought by or for people who are either ill or of an older generation, it may be the case that after several years, you may no longer need the vehicle and wish to sell it on. If this should prove to be the case, we are often able to help. As long as the vehicle isn't too old and is still in good condition, we will be happy to buy it back.
Latest News