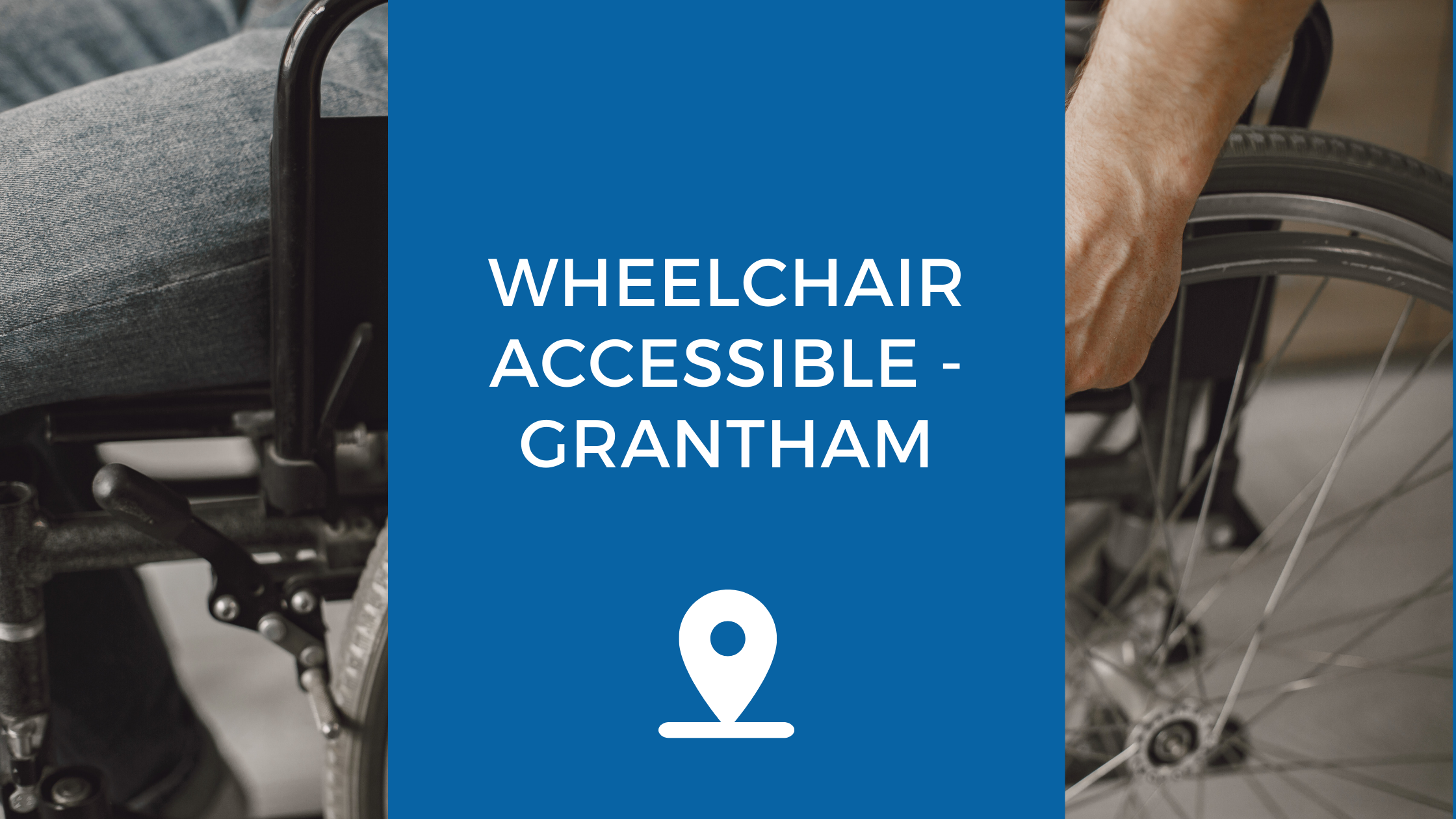 Wheelchair Accessible Grantham
Grantham is a delightful town nestled in the heart of Lincolnshire, UK. Known for its rich history and picturesque landscapes, Grantham offers a warm and inviting atmosphere for visitors of all abilities. In this blog post, we will explore the wheelchair-friendly aspects of Grantham, focusing on wheelchair accessible restaurants, visitor attractions, and wheelchair-friendly parking.
Accessibility is a crucial aspect of creating an inclusive and welcoming environment for all individuals. Grantham has made great strides in ensuring wheelchair users can enjoy the town's offerings without any barriers. Whether you're a resident or a visitor, Grantham's commitment to wheelchair accessibility makes it an ideal destination.
Join us as we take a closer look at the wheelchair-friendly features of Grantham, providing you with valuable information to make your visit comfortable and enjoyable. From dining experiences to exploring attractions and finding accessible parking, we'll cover it all. So, let's dive in and discover the wheelchair-friendly side of Grantham.
Wheelchair Accessible Restaurants in Grantham
When it comes to enjoying a delicious meal in Grantham, wheelchair users can rest assured that there are several restaurants that prioritize wheelchair accessibility. These establishments have gone the extra mile to ensure that their facilities are welcoming and accommodating for everyone.
Miller and Carter
Situated in a charming location, Miller and Carter is a wheelchair-friendly restaurant that offers an exquisite dining experience. The entrance is easily accessible with ramps, and the interior boasts spacious layouts, ensuring comfortable navigation for wheelchair users. The staff is attentive and accommodating, providing assistance as needed. Indulge in their premium selection of succulent steaks and delectable side dishes, prepared to perfection.
Tinel Seafood & Grill
Tinel Seafood & Grill is a wheelchair-accessible restaurant in Grantham that prides itself on serving high-quality seafood and grilled dishes. With a focus on inclusivity, Tinel Seafood & Grill offers a ramped entrance and ample space for wheelchair users to move comfortably within the restaurant. Their menu showcases an array of fresh seafood delicacies, alongside delicious grilled options, satisfying the palates of seafood enthusiasts and meat lovers alike.
Prezzo
Located in the heart of Grantham, Prezzo is a wheelchair-friendly Italian restaurant that offers a delightful dining experience. With a ramped entrance, wide corridors, and spacious seating areas, Prezzo ensures wheelchair users can enjoy their meal comfortably. Indulge in their authentic Italian dishes, from freshly made pizzas and pasta to mouth-watering desserts. The friendly staff adds to the warm and inviting atmosphere of the restaurant.
Exploring Grantham's wheelchair-friendly attractions
Grantham is brimming with captivating visitor attractions that have taken great strides to ensure wheelchair accessibility. From historic sites to cultural landmarks, these wheelchair-friendly attractions invite visitors of all abilities to immerse themselves in the town's rich heritage.
Belton House
Belton House is a stunning country house and estate that offers wheelchair accessibility throughout its grounds. With accessible paths, ramps, and lifts, wheelchair users can explore the beautiful gardens, visit the orangery, and even access the ground floor of the house itself. The estate's commitment to accessibility allows everyone to enjoy the splendor of its architecture, landscapes, and exhibitions.
St. Wulfram's Church
St. Wulfram's Church, a magnificent medieval parish church, is another wheelchair-friendly attraction in Grantham. With accessible entrances and ramps, wheelchair users can explore the historic church, admire its architectural grandeur, and even access the Lady Chapel, which houses notable stained glass windows. The church's welcoming atmosphere ensures that all visitors can experience its rich history and spiritual ambiance.
Grantham Museum
Grantham Museum is a treasure trove of local history and culture, and it is committed to providing wheelchair accessibility. The museum features ramps and lifts to access all exhibition areas, ensuring that wheelchair users can delve into the town's fascinating past. From interactive displays to engaging exhibits, Grantham Museum offers an educational and enjoyable experience for all visitors.
Wheelchair accessible parking in Grantham
Accessible parking is a crucial aspect of creating a wheelchair-friendly environment in Grantham. The town has taken steps to provide designated parking spaces that cater to the needs of wheelchair users, ensuring convenient access to attractions and restaurants.
Town Centre Car Parks
As a Blue Badge holder, you can park in designated disabled bays in council run car parks across Grantham, providing you display your Blue Badge. These parking areas are strategically located near popular attractions and restaurants, making it easier for wheelchair users to access the town's amenities. Look for the wheelchair symbol on parking signs or consult with parking attendants for guidance.
Council car parks in Grantham include:
Welham Street Multi Storey
Conduit Lane
Wharf Road Multi Storey
Guildhall Street
On-Street Disabled Parking Bays
Grantham also provides on-street disabled parking bays in various locations throughout the town. These dedicated parking spaces are conveniently positioned near key attractions and eateries, ensuring wheelchair users have closer proximity to their desired destinations. Look out for blue disabled parking badges or markings on the ground indicating these spaces.
Drop-off Zones
In addition to wheelchair-friendly parking spaces, Grantham offers drop-off zones near attractions and restaurants. These zones allow for convenient drop-off and pick-up, ensuring ease of access for wheelchair users and those with mobility challenges.
Accessible Pathways
Grantham has made efforts to maintain and improve accessible pathways connecting parking areas to attractions and restaurants. These pathways are designed to be smooth and obstacle-free, enabling wheelchair users to navigate the town with ease.
Tips for utilising wheelchair-friendly parking
Plan ahead: Before visiting Grantham, research the locations of wheelchair-friendly parking areas and identify the ones closest to your desired destinations.
Blue Badge scheme: If you have a blue disabled parking badge, ensure it is clearly displayed when using designated accessible parking spaces.
Seek assistance: If you require assistance or have specific parking needs, don't hesitate to reach out to parking attendants or staff at visitor attractions and restaurants. They will be happy to guide you and offer any necessary support.
Grantham has made commendable efforts to provide wheelchair-friendly parking options throughout the town. These designated spaces, drop-off zones, and accessible pathways ensure that wheelchair users have convenient access to the attractions and restaurants that make Grantham a truly inclusive and welcoming destination.
From wheelchair-accessible restaurants like The Wheelhouse and The Red Lion to visitor attractions such as Belton House and St. Wulfram's Church, Grantham ensures that wheelchair users can immerse themselves in its rich history and vibrant culture. The availability of ramps, lifts, and spacious interiors in these establishments demonstrates the town's dedication to making experiences enjoyable for everyone.
Furthermore, Grantham's provision of wheelchair-friendly parking areas, on-street disabled parking bays, drop-off zones, and accessible pathways enables convenient access to the town's attractions and eateries. These thoughtful considerations ensure that wheelchair users can navigate Grantham with ease and comfort.
Whether you're a local resident or a visitor to the area, we encourage you to explore Grantham's wheelchair-friendly offerings. Immerse yourself in the town's historical charm, savour delicious meals at accessible restaurants, and embrace the inclusivity that permeates every aspect of Grantham's fabric.
Grantham welcomes you with open arms, inviting you to experience its wheelchair-friendly amenities firsthand. Come and discover the warm hospitality, rich heritage, and delightful attractions that make Grantham a truly accessible destination for all.
Latest News